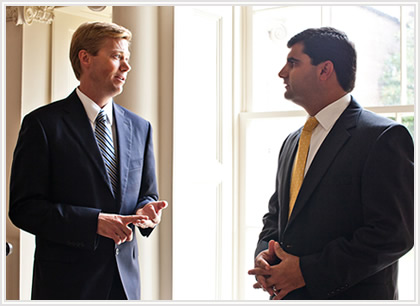 McCullough Khan, LLC was formed by Clay McCullough and Jamie Khan –  two friends and co-workers who share a common goal of delivering first rate client services by offering sound, practical legal advice. Our lawyers bring their own unique experience, talent, and background to the firm, making it possible for us to offer our clients a balanced, well rounded approach to almost any legal problem.
We take pride in giving our clients a higher level of service. Our size, attitude and knowledge ensure that your matter receives the efficacy and expertise it deserves, with the thoroughness and attention it requires, from start to finish.
Our team is intense and aggressive, yet grounded. Our focus is always to achieve the best result for each client through every step of the case.
Because we understand that every case and every client is different, we invest the time and energy necessary to make sure each client is provided the best individual service possible. We have invested in the technology necessary to handle complex cases. We also invest in our relationships with our clients. Doing both always gives us a deep pride in knowing that we approach each and every matter with attention to detail and thoughtfulness.
We litigate cases in every forum in the State of South Carolina, from the trial courts and administrative law courts through the appellate courts. We also enjoy working with clients routinely through our general counsel services.