Clayton B. McCullough | clay@mklawsc.com | 843-937-0401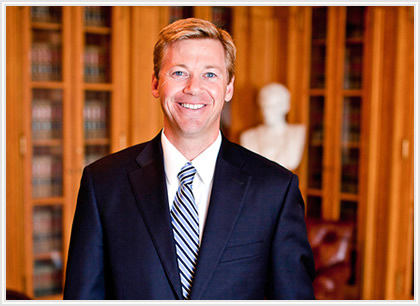 Clay's practice is focused on litigation, with an emphasis on commercial law, construction law, personal injury, securities litigation, and administrative law. He serves in an advisory capacity to local businesses and homeowners associations, including serving as corporate counsel for Source Substrates, LLC and the Charleston School of Law. Clay also represents several local municipalities. He is a Columbia, S.C., native and now lives in Charleston with his wife, Catherine and two children, Cameron and Rodgers.
After graduating law school in 1997, Clay clerked for the Honorable Thomas Cooper, a S.C. Circuit Court Judge. He then had an active products liability litigation practice in Columbia before relocating to Charleston. Clay worked with the law firm of Pratt-Thomas & Walker, PA for ten years before starting his own firm with his friend, Jamie Khan.
Education
Clemson University, B.S. in Marketing, 1993
University of South Carolina School of Law, J.D., 1997 (Projects Editor, ABA Real Property, Probate and Trust Journal; 1997 University of South Carolina National Trial Competition Champion; 1996 S.C.T.L.A. Mock Trial Finalist).
Admitted to Practice
South Carolina.
United States District Court for the District of South Carolina.
United States Court of Appeals for the Fourth Circuit
Professional Memberships and Distinctions
American Bar Association
American Association for Justice
Southern Trial Lawyers Association
South Carolina Trial Lawyers Association
Charleston County Bar Association
South Carolina Bar Association
Publications
Co-Authored 2009 Update to South Carolina Damages Chapter entitled "Tort Damages Involving Property".
Clayton McCullough
843-937-0401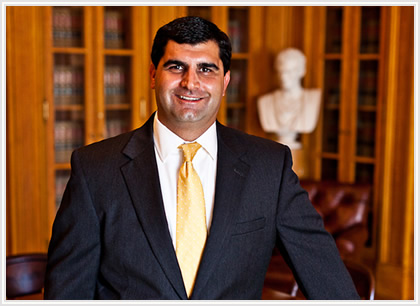 Supreme Court of South Carolina Certified Civil Court Mediator
Jamie has a passion for hard work and is always determined in the pursuit of claims on behalf of our clients. Originally from New Jersey, Jamie has called Charleston home since entering The Citadel in 1996. After graduating from The Citadel and prior to entering law school, Jamie was a patrolman and detective with the Charleston Police Department. Prior to forming McCullough Khan, LLC with Clay McCullough, Jamie was associated with the longstanding litigation law firm of Pratt-Thomas Walker, P.A. in Charleston where he represented individuals and organizations in a wide variety of issues. Jamie is a litigator and concentrates his practice in business/commercial litigation cases for individuals, businesses and creditors as well as represents clients in serious personal injury and death cases. Jamie also enjoys mediating cases as a certified mediator. Jamie takes pride in giving his clients unmatched attention, access and dedication. Jamie is AV Preeminent® rated by Martindale-Hubbell® for his legal knowledge, analytical capabilities, judgment, communication ability and legal experience based on reviews by his peers and colleagues.
Jamie is a member of The Citadel Board of Visitors, the governing body of The Citadel, The Military College of South Carolina. Previously, Jamie served as the Chairman of the Board of Directors and President of The Citadel Alumni Association and a member of the Board of Directors of The Citadel Foundation. When not working hard on his cases, Jamie enjoys being on the water or at the beach with his family, in the mountains or playing tennis. Jamie resides on Daniel Island with his wife, Beth, and two daughters, Katie and Claire.
Education The Citadel, The Military College of South Carolina B.A., Criminal Justice, 2000 The Charleston School of Law J.D., 2007 (Inaugural Class), Magna Cum Laude
Admitted to Practice South Carolina United States District Court for the District of South Carolina United States Court of Appeals for the Fourth Circuit
Jamie Khan 843-937-0705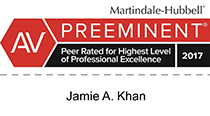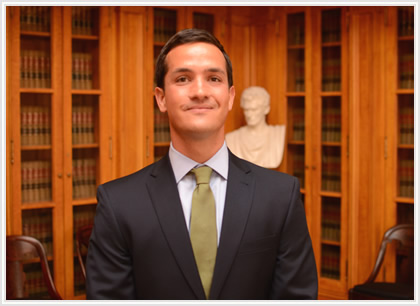 Ross brings hard work and dedication to the firm. His background is in land-use and environmental law, but has become a skilled commercial and personal-injury litigator since joining McCullough Khan in early 2012. In addition to those practice areas, Ross litigates probate, restrictive covenant, real property, homeowners association, construction defects, products liability, insurance coverage, judgment collection, and local government finance cases. In law school, Ross clerked with Burnie Maybank, former Director of the SC Department of Revenue. After graduating, he worked for two years with White & Smith Planning and Law Group, one of the country's leading land-use law firms. Born and raised in Charleston, he enjoys surfing, kayak fishing, and spending time with his wife Alexis and their two miniature dachshunds Stono and Quito-Wayne. He also serves on the Executive Board for both the Charleston Jewish Community Center and Hebrew Benevolent Society of Charleston, SC.  
Education The University of Florida, B.A., Philosophy and History 2006 The University of South Carolina School of Law, J.D., 2009 (Editorial Board, Southeastern Environmental Law Journal)
Publications "Compatible Land Use Near Military Installations: The Problem and the Local Government Response," published in Planning & Environmental Law, (American Planning Association 2011). Board of Editorial Advisors for Environmental Law in South Carolina, Third Edition (South Carolina Bar 2011). Editorial Advisor for The Law of Automobile Insurance in South Carolina, Sixth Edition, (South Carolina Bar 2009). "Permitting Trouble in the Marsh: Georgia Courts and the Coastal Marshlands Protection Act," published in Southeastern Environmental Law Journal (Fall 2007).
Published Opinions Rockville Haven, LLC v. The Town of Rockville, 394 S.C. 1, 714 S.E.2d 277 (S.C. 2011).
Distinctions Winner of the 2009 South Carolina Collegiate Entrepreneurship Award.
Ross Appel 843-937-9798